ISOTRA a. s. Receives Prestigious "TOP RATING"
An award of stability, solvency and credibility of ISOTRA a. s. – this is the internationally recognised "Top Rating" granted by Dun & Bradstreet.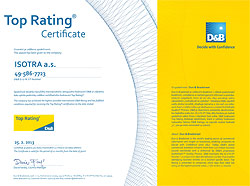 The D&B Rating consists of two parts: a company's Financial Strength Indicator and the Risk Indicator. The first part, financial strength, is based on the Net Worth or Issued Capital. The second part, the Risk Indicator, is an evaluation using a scale of 1 to 4, where 1 means minimal risk with a possibility of extending invoice maturity; 2 indicates low risk; 3 is slightly greater than average risk; and 4 means a significant level of risk.
This rating provides a comprehensive view of the risks based on the financial as well as non-financial information of a selected company. For several decades, the D&B Rating has been recognised worldwide as the leading predictive indicator of company risk assessment.
Only a very narrow group of 2 % of Czech and Slovak companies is capable of acquiring the prestigious Top Rating, provided that they maintain the D&B Rating Risk Indicator on the highest possible value – "1" – for a period of at least 12 months.
Therefore, ISOTRA a. s. ranks among the best rated companies in the Czech Republic and Slovakia with respect to risk, stability and safe trading, thus increasing its prestige on the Czech market and worldwide.